Childcare centres hold the most delicate and vulnerable of customers out there, so it's only natural to have a security system that will ensure the security of the children.
There are numerous safety precautions that childcare centres should observe. Small children are very prone to hazards and they may have food allergies you should watch out for. In addition to this, strict security measures should be observed to prevent unwanted visitors from entering the centre.
It can be tough for the staff to monitor each and every activity that happens in the facility. Having a surveillance system lets them focus their attention more on childcare services instead of worrying about the security of the area.
Our team of experts here at Serious Security has laid out a plan on how we'll install the security system on a childcare facility similar to the floor plan depicted below: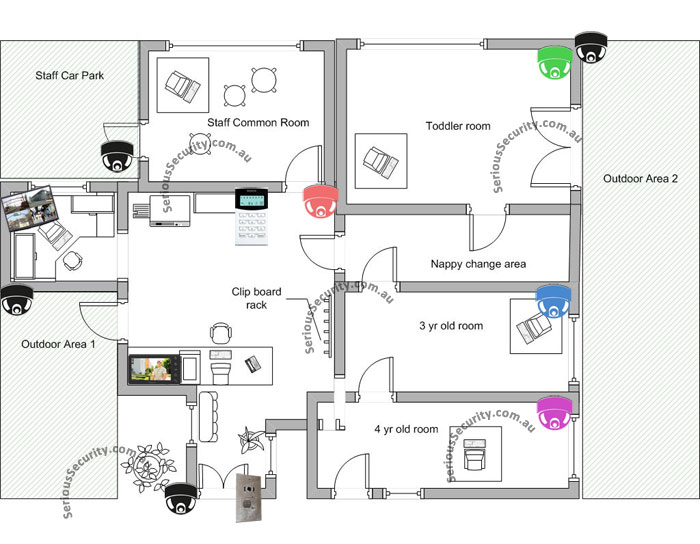 Security Components:

Installing an camera in the middle of the facility is a great way to get a general view of who enters and exits the rooms. The resolution of this camera is enough to easily recognize the faces and actions of those within its range.

Busy parents often leave their children in childcare facilities for long hours. CCTV cameras help promote transparency and boost the confidence of the parents in the safety of their children.  We recommend putting individual cameras on each of the rooms so that the staff can carefully monitor the activities that occur inside them. The cameras can capture footages which can be shown to the parents as proof of the safety of their child inside the facility. It can also record unexpected incidents and harmful behavior which can be used as evidence for insurance claims and reporting purposes.

Extra cameras should be placed outside the facility, especially in the car park and garden areas. Suspicious activities outside the centre can be easily monitored this way, helping the employees prevent any unwanted incident before it actually happens.

Well positioned and fitted cameras also allow child care centre staff to monitor and capture hazardous behaviour or unexpected incidences that may be used as evidence for insurance purposes or when reporting to relevant authorities.

Extra cameras are used for larger child care centres to monitor carparking, garden and other important outdoor areas.

All our CCTV packages come with a quality 19 inch monitor to allow back office staff to monitor common areas whether there is frequent supervision or not. All our packages also include remote viewing connection to your smartphone or tablet so you can monitor your business from anywhere, anytime.

It is highly recommended for childcare centres to have this security installation as this will help the staff control who enters the premise. This is especially helpful during child-monitoring hours when staff members are too busy to receive incoming visitors.

An alarm system should also be installed inside the childcare centre to make sure the establishment is well-protected even outside business hours. The alarm system can be connected to your mobile phone and trigger an alert when an intruder enters the premise.
What Your Child Care Security Package Costs Could Be for an average centre: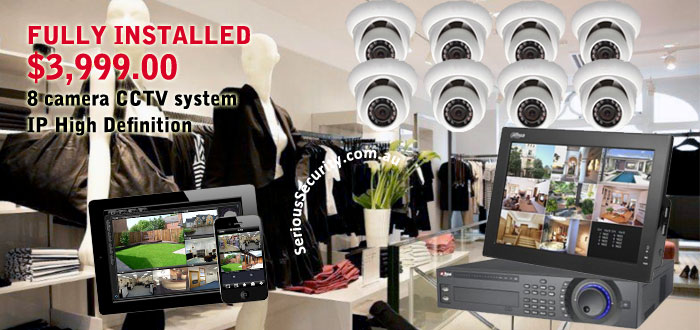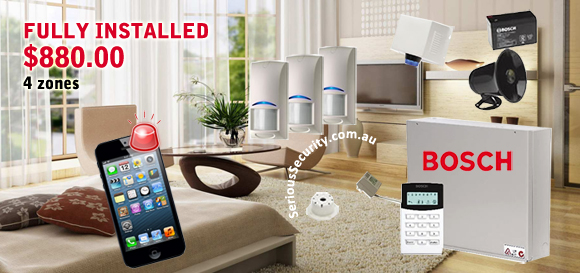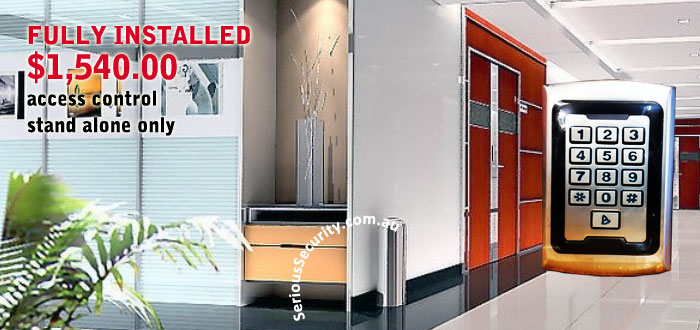 Install a quality security system fast. Book now on (03) 8513 0799 Our friendly sales team are ready to take your call 7 days a week, 9am – 9pm. Our lines may get busy, if we miss your call, expect a call right back once a sales member is free.