Petrol stations are usually manned by one to two employees, depending on the size of the establishment. It will be hard for the limited staff to monitor everything on a busy day and this is the opportunity that daylight robbers and petty thefts won't miss to take advantage of.
Petrol stations also act as convenience stores, with people buying a few items while they're getting their tanks refilled. The limited manpower has to juggle between serving customers, cleaning the facility, monitoring the premises for suspicious behavior, and keeping an eye on thieves and felons.
Serious Security has developed a security package suited for petrol stations. Below is a sample floor plan of a petrol station and a description of how we'll set up the security system for the business.
Below is a sample petrol station floor plan of how most owners choose to set up their security equipment.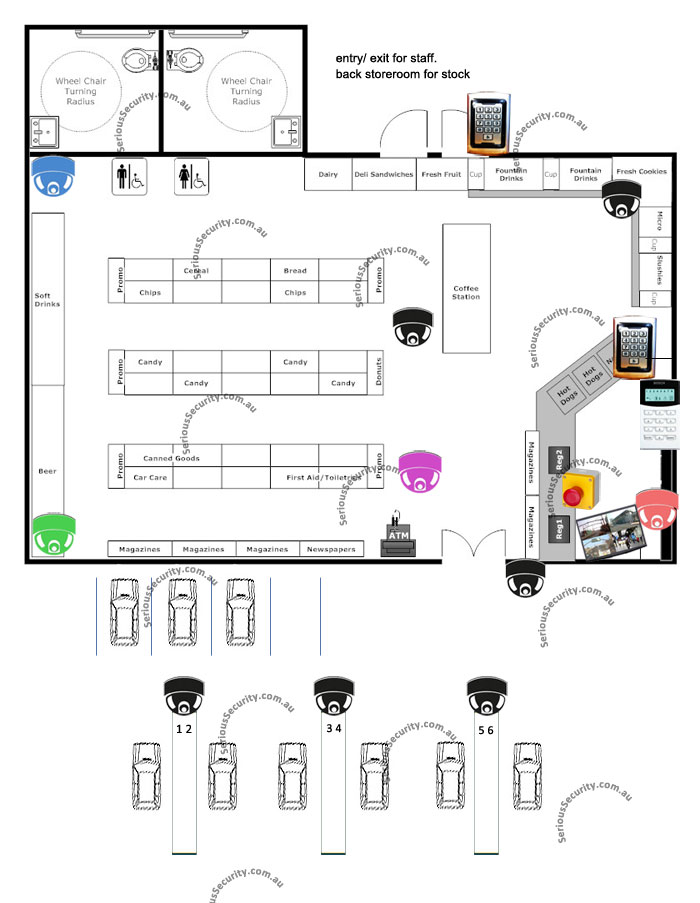 Security Package Installed:
Security Components:

Installing a network of high-definition IP cameras is the recommended solution for petrol stations. They produce high-resolution recordings so your business can capture the tiniest of details like the plate numbers of cars that drive by. Putting one on these cameras on the cashier area allows your staff to get a general view of the activities that happen within the store.

Similar to a typical grocery store, convenience stores on petrol stations will have aisles and several shelves that may obstruct the view of the staff manning the cashier counter. It's not a surprise for businesses to lose hundreds of dollars a year from petty thieves who steal from the stock and take advantage of the shop's blind areas.
By installing a security camera on the far end corner of the room, you can eliminate the blind spots created by the shelves. Thieves won't get away that easily since they won't be able to hide what they're doing.

Petrol stations usually have other facilities and merchandise to offer aside from those inside the convenience store. Retail items like gas and oil on display just outside the store can be targeted by thieves which is why these should also be guarded by the staff.
Installing another camera on the corner of the store where you can have a good view of what's happening inside and outside the shop helps monitor vulnerable areas of the station.

Having another camera installed in areas where high customer traffic happens adds an extra layer of security in identifying who enters and exits the premises. Putting it near ATMs will also make customers more confident and safe in doing business with your store.

Additional cameras should be placed on the store's ceiling to make sure you have complete ground coverage. Fitting a camera on the pump stations will also enhance the security of the station.

 All our CCTV packages come with a quality 19 inch monitor to allow back office staff to monitor common areas whether there is frequent supervision or not. All our packages also include remote viewing connection to your smartphone or tablet so you can monitor your business from anywhere, anytime.

An alarm system will also be installed inside the facility to make sure the establishment is well-protected even outside business hours. The alarm system can be connected to your mobile phone and trigger an alert when an intruder enters the premise.

Petrol stations should have panic buttons that allow employees to call for help in emergency situations. We'll install a 24/7 alarm that's directly connected to the Security Alarm Monitoring Centre partnered with Serious Security. A distress signal can be sent to the monitoring team whenever the alarm is triggered, calling the security guards to come to the area to patrol for suspicious activities.

Storerooms, back offices, and cashier counters should be accessible to authorized employees only. Having an access control pad will prevent wandering customers and criminals from entering restricted areas.
Install a quality security system fast. Book now on (03) 8513 0799 Our friendly sales team are ready to take your call 7 days a week, 9am – 9pm. Our lines may get busy, if we miss your call, expect a call right back once a sales member is free.