It's a no-brainer to keep watch over a warehouse full of valuable equipment and inventory stock.
When you invest thousands of dollars in products and supplies, it's just natural to put a surveillance system in the area to prevent theft, intrusion, vandalism, and damages to the items. Placing CCTV cameras in the warehouse helps monitor employee actions, delivery activities, and possible workplace accidents in the area. You'll be able to respond to unwanted circumstances and avoid further damage and loss in value of your warehouse stock.
Serious Security is an expert in handling the installation of security systems in warehouses. We've fitted surveillance solutions on warehouses of various sizes, from 1,000 square meters up to 16,000 square meters. We have the skills and experience to effectively secure your warehouse and give you peace of mind.
Here's how we'll setup the security equipment in a warehouse similar to the floor plan below: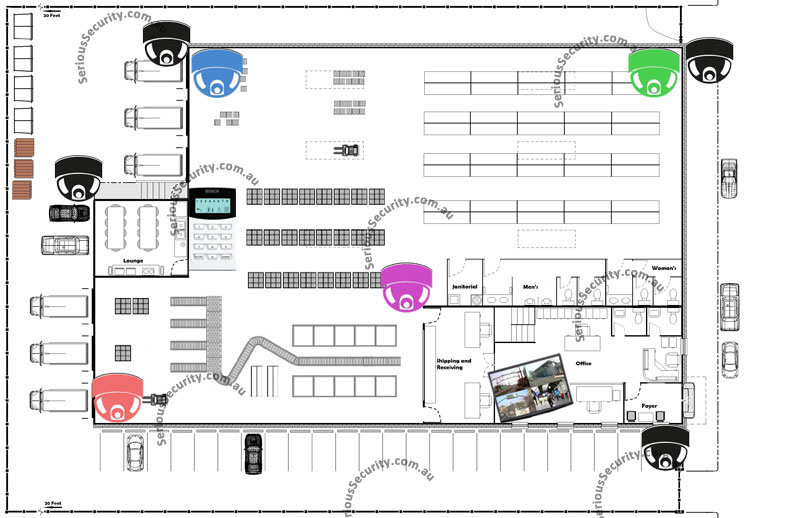 Security Components:

Crates of supplies and large equipment can obstruct the view of supervisors and floor managers from monitoring the activities that happen on the ground. Installing an analog CCTV near the warehouse's access point is enough to monitor supply movement, employee activity, and visitor entrance.

Adding another camera on the other side of the access point ensures there are no hidden areas that the surveillance system can't monitor. Aside from improving the security of the facility, the camera will promote transparency between the management and the employees.

The stock area where there's little people traffic doesn't have to be manned at all times. Installing a security camera in this area of the warehouse is enough to monitor the activities there.

A camera at the center of the warehouse gives a general view of the whole place. Our technician can recommend the best position and angle to put the camera to get the largest view span possible.

It's best to also put cameras outside the warehouse to secure the vehicles parked there. They can also spot suspicious persons roaming in the vicinity, alerting the staff to keep their guard up.

All our CCTV packages come with a quality 19 inch monitor to allow back office staff to monitor common areas whether there is frequent supervision or not. All our packages also include remote viewing connection to your smartphone or tablet so you can monitor your business from anywhere, anytime.

An alarm system will also be installed inside the warehouse to make sure the campus is well-protected even outside school hours. The alarm system can be connected to your mobile phone and trigger an alert when an intruder enters the premise.
What Your Warehouse Security Package Costs Could Be (if you've got a suspended ceiling and under 350m2 otherwise call us out for a free quote):

Install a quality security system fast. Book now on (03) 8513 0799 Our friendly sales team are ready to take your call 7 days a week, 9am – 9pm. Our lines may get busy, if we miss your call, expect a call right back once a sales member is free.