Dental clinics are sometimes undermanned, forcing dentist assistants to function also as reception staff. So, when there's a patient they need to attend to, the waiting room area is left unsupervised, making the establishment vulnerable to security breaches.
Serious Security can install a CCTV surveillance system in your dental clinic to make sure every activity is monitored even when the reception area is left unmanned. Whether your clinic is set up in a commercial building or you're running a home clinic, we have the appropriate monitoring solution for your place. You won't have to worry about leaving the place unguarded whenever you're attending to a patient.
Here's one of our security setups for the dental clinic floor plan below: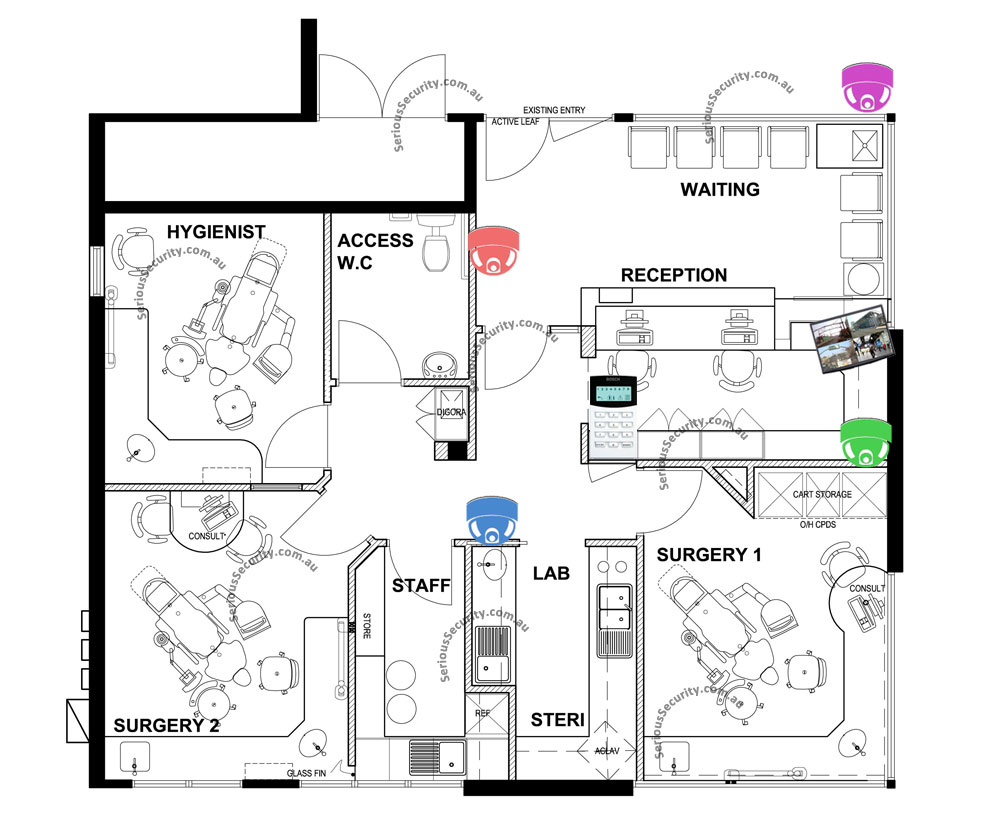 Security Package Installed:
Security Components:

An analog camera placed in the middle of the room is usually sufficient enough to monitor visitor traffic the clinic receives. It captures footages with a resolution high enough to recognize the facial features of incoming and outgoing individuals. For small clinics with a single room, this is enough to secure the premise.
But if you have a larger office and you want to capture more details with your surveillance system, you can upgrade to our HD IP-enabled camera network.

Past the reception area, an additional camera can be installed to monitor the unauthorized entry of patients to restricted areas of the clinic. Sometimes, people wander around due to curiosity, especially when there's no one to receive them on the front desk.
By having a second layer of security, you can recognize whether the wandering visitor is a legitimate patient or some stranger who's checking if they won't be caught for doing something bad.

A malfunctioning camera opens a hole in your defence, creating a blind spot where you won't be able to monitor entrance to prohibited areas. By installing another camera with a wide viewing span, you'll have a security backup in case one of the first two cameras fail to function.

Parking areas can be monitored by adding a CCTV monitor outside your clinic. This can act as the first and last line of defence in your surveillance system.

All our CCTV packages come with monitor to allow back office staff to monitor common areas whether there is frequent supervision or not. All our packages also include remote viewing connection to your smartphone or tablet so you can monitor your business from anywhere, anytime.

An alarm system will also be installed in your clinic to make sure the facility is well-protected even outside business hours. It can be connected to your mobile phone and trigger an alert when an intruder enters the office premise.
All CCTV packages we offer at Serious Security come with a high-quality 19-inch monitor where you can view the live feed from the security cameras. Our security systems are also capable of remote viewing connection so you can monitor the facility from your mobile device anytime, anywhere.
Cost of Surveillance Package
Serious Security offers the full Dentistry Security System package at $2300, inclusive of GST. It includes 4 CCTV cameras with an HD television for monitoring purposes. If you want to add another layer of security, we can also install an alarm system that can cover up to 4 zones. This can be availed at an affordable price of $880.
Just give us a call and we'll handle the installation of this Dentistry Security System for your clinic.
Install a quality security system fast. Book now on (03) 8513 0799 Our friendly sales team are ready to take your call 7 days a week, 9am – 9pm. Our lines may get busy, if we miss your call, expect a call right back once a sales member is free.