Protecting students from strangers, kidnappers, and intruders can be a challenging task, especially when only a single teacher is tasked to monitor 30 students at a time.
Schools often have a surveillance system in place but they're either outdated, incomplete, or non-functional. Serious Security will make sure your security system is up-to-date and it's compliant with current security standards for schools. We install only quality cameras that will enable you to deter criminal activity and capture every detail within the perimeter.
You should never compromise the safety and security of the children that go to school. Skimping on security also risks the protection of your staff and the infrastructure.
As a business, we understand the need to budget the expenses of the school which is why Serious Security is offering a range of cost-effective security options fit for your needs.
Schools vary in size and structure. From single building complexes to decentralized demountables, each campus has a different security need. We recommend that you request us an onsite visit first to allow our security team to assess where to best put the security equipment.
Here's how we recommend positioning the surveillance system in the sample floor plan of a local school campus.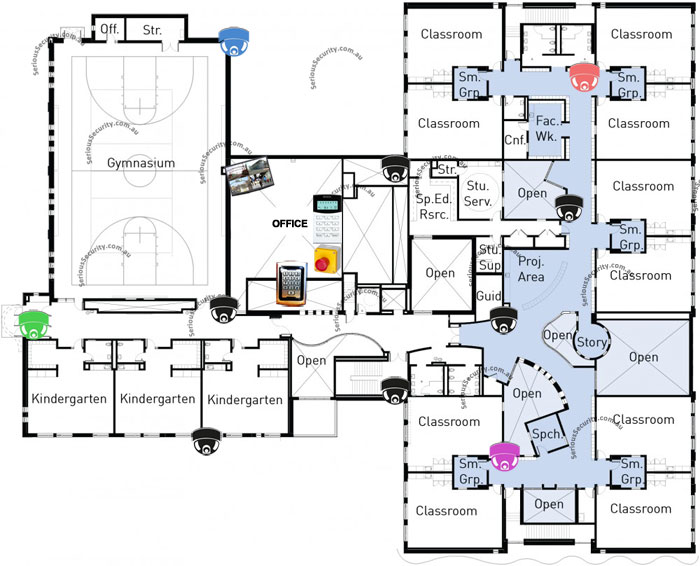 Security Components:

A 6MP IP-enabled camera is enough to monitor several classrooms and recognize finer details like facial features.

Areas that are hard to supervise for staff and teachers are gyms and activity centres. There are also restricted areas within the campus and hidden zones that are hard to regularly monitor by the patrolling security. Installing a surveillance camera in areas like these will deter intruders from entering and also help the head office supervise student activities.

Security cameras must be fitted in areas where the most vulnerable students reside. Hallways and pick-up and drop-off zones should be always monitored to prevent criminal activities from happening.

There are areas in the school that can be challenging to monitor due to their architectural design. But not placing any surveillance system in these areas make them vulnerable to trespassing and unwanted activities. Our expert team can evaluate locations like these and determine the best spot where to put security cameras on.

Putting additional cameras to monitor the activities both inside and outside the school premises can boost the overall security of the campus.

All our CCTV packages come with a quality 19 inch monitor to allow back office staff to monitor common areas whether there is frequent supervision or not. All our packages also include remote viewing connection to your smartphone or tablet so you can monitor your business from anywhere, anytime.

An alarm system will also be installed inside the facility to make sure the campus is well-protected even outside school hours. The alarm system can be connected to your mobile phone and trigger an alert when an intruder enters the premise.

We'll install a 24/7 alarm that's directly connected to the Security Alarm Monitoring Centre partnered with Serious Security. Immediate response is sent to the monitoring whenever the alarm is triggered and security guards will come to the area to patrol for suspicious activities.

The main office should be protected from unauthorized access since it's where confidential student records are stored. Having an access control pad prevents intruders, students, or unpermitted employees from entering the room without approval.

Panic buttons are a great way for staff members to sound the alarm should any threatening situation arises to evacuate students from the school's ground.
Our school security packages are suitable for small colleges only. We recommend that you let us do a custom quote for your school after visiting the premises like we've done with most of our clients. This will also help us assess how complex your security requirements are and create a plan suited to the needs of your campus.
School Access Control / Alarm Systems
SAFER SCHOOLS PROGRAM
The Australian Government has taken the initiative to make schools in the country safer to go to. From 2015 to 2018, they've committed around $18 million in funding to help private and public schools improve their security.
Schools that have a higher risk of being attacked or harassed due to religious and racial intolerance can be granted funding to enhance their security protocols. Independent school associations and individual state governments have the power to nominate the schools who can receive the benefits of the programme.
https://www.ag.gov.au/CrimeAndCorruption/CrimePrevention/Pages/SchoolsSecurityProgramme.aspx
What Your School / College Security Package Costs Could Be: (Please be advised that these packages are suitable for most small colleges or offices. Most schools will require a custom quote if your security requirements are more complex. Please call 03 8513 0799 to organise an onsite quote).
Install a quality security system fast. Book now on (03) 8513 0799 Our friendly sales team are ready to take your call 7 days a week, 9am – 9pm. Our lines may get busy, if we miss your call, expect a call right back once a sales member is free.