Watchguard Access Control System (stand alone control pad) – From $990 Fully Installed incl GST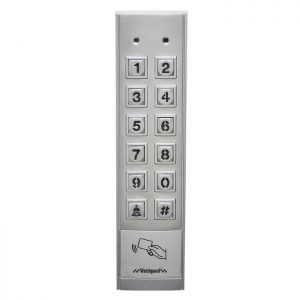 The Keypad / Reader here is a vandal resistant, zinc-alloy die cast, selfcontained, dual-level backlit access control reader/keypad designed to directly drive electric door locks. It is capable of accommodating up to 1000 user codes & RFID cards/keyfobs and is compatible with both fail-safe and failsecure locks. Cards & codes can be combined for multi-level authentication, visitor access can be programmed, daily operational hours can be set and the door lock striking timer is programmable for access customisation.
Package Snapshot:
Watchguard access control keypad ACRDR103 Product Brochure (PDF)
10 FOBS
Integration to existing door / gate strikes
Power Supply
Want an access control system web based control?